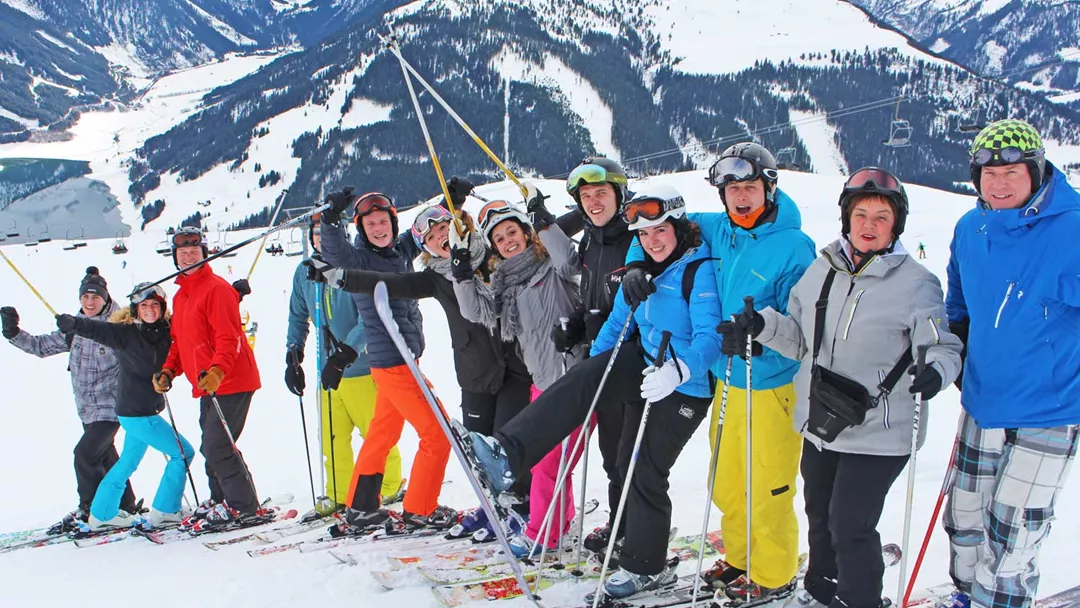 Een wintersport groepsreis boeken? Om als bedrijfsuitje naar de sneeuw te gaan of voor een skivakantie met een groep vrienden of familie? Bij Summit Travel ben je aan het juiste adres voor wintersport groepsreizen. De reisorganisatie heeft een jarenlange ervaring en biedt voor iedereen een passende reis op maat. Of dat nu een shortski is van 2 tot 5 nachten of een volledige wintersportweek. Hoe leuk is het om met z'n allen op wintersport te gaan!

Je wintersport boeken zonder financieel risico!
Corona heeft de wereld behoorlijk op z'n kop gezet. Het is logisch dat je twijfels hebt over het wel of niet boeken van een wintersport groepsreis, maar bij Summit Travel is dat nergens voor nodig. Om jou, je collega's, vrienden of familieleden een onbezorgde aanloop naar de wintersport te geven, is het bij veel accommodaties mogelijk om tot 3 maanden of zelfs 6 weken voor vertrek kosteloos te annuleren. Je krijgt dan dus ook het door jou (aan)betaalde bedrag volledig terug!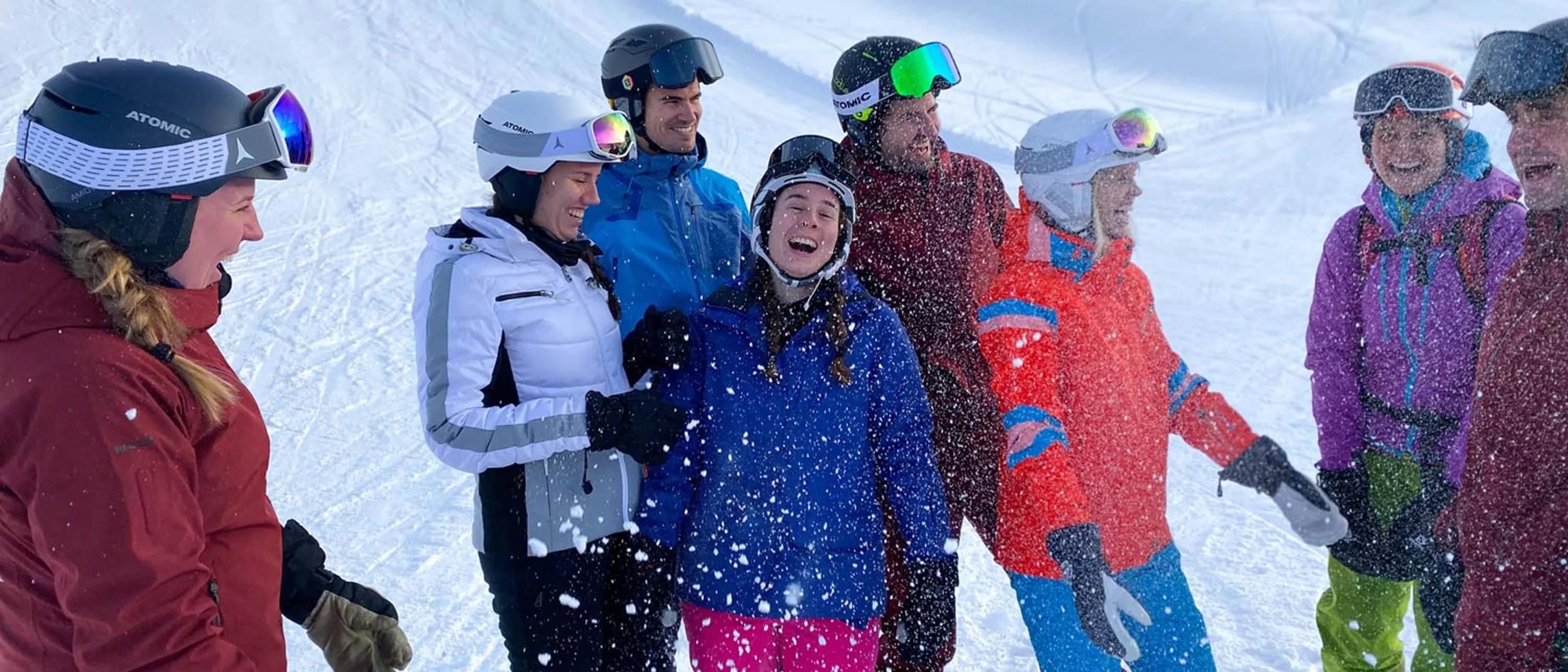 Vrijblijvende aanvraag bij Summit Travel
Enthousiast geworden? Zo gaat Summit Travel jou helpen bij het vinden van de perfecte wintersport voor jouw bedrijf:
Stap 1
Stuur middels onderstaand formulier een aanvraag voor jouw groep! Summit Travel neemt zo snel mogelijk contact met je op om kennis te maken en de wensen te inventariseren.
Stap 2
Summit Travel zoekt geschikte locaties en werkt deze uit in een compleet reisvoorstel. Uiteraard wordt er ook gedacht aan skimateriaal, vervoer en verzekeringen.
Stap 3
Er zijn vaak meerdere mogelijkheden voor de skitrip van jouw groep. Het team van de groepsafdeling houdt graag contact om goed op de hoogte te zijn van jouw wintersportplannen en waar nodig aanpassingen te doen.
Stap 4
Weet je welke optie het gaat worden? Dan gaat Summit Travel de boeking in orde maken. Hierbij wordt zoveel mogelijk uit handen genomen, zodat jij je nergens druk over hoeft te maken. Zo is er bijvoorbeeld een digitale omgeving waar de hoofdboeker alle gegevens van iedereen in kan vullen.
Ps: het definitieve personenaantal spreken we later af.
Stap 5
De wintersport komt eraan! Jouw vaste contactpersoon bij Summit Travel staat klaar voor al jouw vragen en (last minute) wijzigingen. Dan kun jij je focussen op het pakken van je reistas en het meenemen van de reispapieren. Last minute toch nog een wijziging doorvoeren? Dit kan eenvoudig in de digitale omgeving waar je alles voor je boeking regelt.
Stap 6
Eindelijk sta je in de sneeuw! Geniet van de gezelligheid met jouw collega's. Indien er iets is, kun je Summit Travel natuurlijk ook tijdens de reis bereiken.
Geheel verzorgd met z'n allen op wintersport
Bij Summit Travel houdt het niet op met alleen het vastleggen van de accommodatie. Om de reis compleet te maken kun je vele extra's bijboeken. Van skipassen tot skimateriaal en skilessen, maar ook allerlei leuke activiteiten. Wat dacht je bijvoorbeeld van een rodelavond, een wijnproeverij, een skisafari of een tocht op een sneeuwscooter? Maar ook een welkomstborrel voor al het personeel of het regelen van een vergaderruimte waar jullie tussen het skiën door overleg kunnen plegen is mogelijk. Summit Travel zorgt ervoor dat iedereen geheel verzorgd op wintersport gaat!
Aanvraagformulier groepsreizen wintersport
Vraag vrijblijvend een offerte aan bij Summit Travel. Eén van de medewerkers van de groepsafdeling neemt zo snel mogelijk contact met je op om alle wensen door te nemen. Vul onderstaand formulier in en maak kennis met de service, de flexibiliteit en het maatwerk van Summit Travel.
macro
System.Web.HttpException (0x80004005): Error executing child request for handler 'System.Web.Mvc.HttpHandlerUtil+ServerExecuteHttpHandlerAsyncWrapper'. ---> System.InvalidOperationException: The partial view '~/Views/Partials/Form/DateRangePicker.cshtml' was not found or no view engine supports the searched locations. The following locations were searched:
~/Views/Partials/Form/DateRangePicker.cshtml
   at System.Web.Mvc.HtmlHelper.FindPartialView(ViewContext viewContext, String partialViewName, ViewEngineCollection viewEngineCollection)
   at System.Web.Mvc.HtmlHelper.RenderPartialInternal(String partialViewName, ViewDataDictionary viewData, Object model, TextWriter writer, ViewEngineCollection viewEngineCollection)
   at System.Web.Mvc.Html.PartialExtensions.Partial(HtmlHelper htmlHelper, String partialViewName, Object model, ViewDataDictionary viewData)
   at ASP._Page_Views_Partials_Forms_Themes_spalder_FieldTypes_FieldType_DateRangePicker_cshtml.Execute() in C:\Websites\Live\Spalder.WebsitePlatform\LatestLive\Views\Partials\Forms\Themes\spalder\FieldTypes\FieldType.DateRangePicker.cshtml:line 52
   at System.Web.WebPages.WebPageBase.ExecutePageHierarchy()
   at System.Web.Mvc.WebViewPage.ExecutePageHierarchy()
   at System.Web.WebPages.WebPageBase.ExecutePageHierarchy(WebPageContext pageContext, TextWriter writer, WebPageRenderingBase startPage)
   at Umbraco.Web.Mvc.ProfilingView.Render(ViewContext viewContext, TextWriter writer) in D:\a\1\s\src\Umbraco.Web\Mvc\ProfilingView.cs:line 25
   at System.Web.Mvc.Html.PartialExtensions.Partial(HtmlHelper htmlHelper, String partialViewName, Object model, ViewDataDictionary viewData)
   at ASP._Page_Views_Partials_Forms_Themes_spalder_Form_cshtml.Execute() in C:\Websites\Live\Spalder.WebsitePlatform\LatestLive\Views\Partials\Forms\Themes\spalder\Form.cshtml:line 62
   at System.Web.WebPages.WebPageBase.ExecutePageHierarchy()
   at System.Web.Mvc.WebViewPage.ExecutePageHierarchy()
   at System.Web.WebPages.WebPageBase.ExecutePageHierarchy(WebPageContext pageContext, TextWriter writer, WebPageRenderingBase startPage)
   at Umbraco.Web.Mvc.ProfilingView.Render(ViewContext viewContext, TextWriter writer) in D:\a\1\s\src\Umbraco.Web\Mvc\ProfilingView.cs:line 25
   at System.Web.Mvc.Html.PartialExtensions.Partial(HtmlHelper htmlHelper, String partialViewName, Object model, ViewDataDictionary viewData)
   at ASP._Page_Views_Partials_Forms_Themes_spalder_Render_cshtml.Execute() in C:\Websites\Live\Spalder.WebsitePlatform\LatestLive\Views\Partials\Forms\Themes\spalder\Render.cshtml:line 56
   at System.Web.WebPages.WebPageBase.ExecutePageHierarchy()
   at System.Web.Mvc.WebViewPage.ExecutePageHierarchy()
   at System.Web.WebPages.WebPageBase.ExecutePageHierarchy(WebPageContext pageContext, TextWriter writer, WebPageRenderingBase startPage)
   at Umbraco.Web.Mvc.ProfilingView.Render(ViewContext viewContext, TextWriter writer) in D:\a\1\s\src\Umbraco.Web\Mvc\ProfilingView.cs:line 25
   at System.Web.Mvc.ViewResultBase.ExecuteResult(ControllerContext context)
   at System.Web.Mvc.ControllerActionInvoker.InvokeActionResultFilterRecursive(IList`1 filters, Int32 filterIndex, ResultExecutingContext preContext, ControllerContext controllerContext, ActionResult actionResult)
   at System.Web.Mvc.ControllerActionInvoker.InvokeActionResultFilterRecursive(IList`1 filters, Int32 filterIndex, ResultExecutingContext preContext, ControllerContext controllerContext, ActionResult actionResult)
   at System.Web.Mvc.ControllerActionInvoker.InvokeActionResultFilterRecursive(IList`1 filters, Int32 filterIndex, ResultExecutingContext preContext, ControllerContext controllerContext, ActionResult actionResult)
   at System.Web.Mvc.ControllerActionInvoker.InvokeActionResultFilterRecursive(IList`1 filters, Int32 filterIndex, ResultExecutingContext preContext, ControllerContext controllerContext, ActionResult actionResult)
   at System.Web.Mvc.ControllerActionInvoker.InvokeActionResultFilterRecursive(IList`1 filters, Int32 filterIndex, ResultExecutingContext preContext, ControllerContext controllerContext, ActionResult actionResult)
   at System.Web.Mvc.ControllerActionInvoker.InvokeActionResultWithFilters(ControllerContext controllerContext, IList`1 filters, ActionResult actionResult)
   at System.Web.Mvc.Async.AsyncControllerActionInvoker.<>c__DisplayClass3_1.b__1(IAsyncResult asyncResult)
   at System.Web.Mvc.Async.AsyncControllerActionInvoker.EndInvokeAction(IAsyncResult asyncResult)
   at System.Web.Mvc.Controller.<>c.b__152_1(IAsyncResult asyncResult, ExecuteCoreState innerState)
   at System.Web.Mvc.Async.AsyncResultWrapper.WrappedAsyncVoid`1.CallEndDelegate(IAsyncResult asyncResult)
   at System.Web.Mvc.Controller.EndExecuteCore(IAsyncResult asyncResult)
   at System.Web.Mvc.Async.AsyncResultWrapper.WrappedAsyncVoid`1.CallEndDelegate(IAsyncResult asyncResult)
   at System.Web.Mvc.Controller.EndExecute(IAsyncResult asyncResult)
   at System.Web.Mvc.MvcHandler.<>c.b__20_1(IAsyncResult asyncResult, ProcessRequestState innerState)
   at System.Web.Mvc.Async.AsyncResultWrapper.WrappedAsyncVoid`1.CallEndDelegate(IAsyncResult asyncResult)
   at System.Web.Mvc.MvcHandler.EndProcessRequest(IAsyncResult asyncResult)
   at System.Web.Mvc.HttpHandlerUtil.ServerExecuteHttpHandlerWrapper.<>c__DisplayClass5_0.b__0()
   at System.Web.Mvc.HttpHandlerUtil.ServerExecuteHttpHandlerWrapper.Wrap[TResult](Func`1 func)
   at System.Web.HttpServerUtility.ExecuteInternal(IHttpHandler handler, TextWriter writer, Boolean preserveForm, Boolean setPreviousPage, VirtualPath path, VirtualPath filePath, String physPath, Exception error, String queryStringOverride)
   at System.Web.HttpServerUtility.ExecuteInternal(IHttpHandler handler, TextWriter writer, Boolean preserveForm, Boolean setPreviousPage, VirtualPath path, VirtualPath filePath, String physPath, Exception error, String queryStringOverride)
   at System.Web.HttpServerUtility.Execute(IHttpHandler handler, TextWriter writer, Boolean preserveForm, Boolean setPreviousPage)
   at System.Web.HttpServerUtility.Execute(IHttpHandler handler, TextWriter writer, Boolean preserveForm)
   at System.Web.Mvc.Html.ChildActionExtensions.ActionHelper(HtmlHelper htmlHelper, String actionName, String controllerName, RouteValueDictionary routeValues, TextWriter textWriter)
   at System.Web.Mvc.Html.ChildActionExtensions.RenderAction(HtmlHelper htmlHelper, String actionName, String controllerName, Object routeValues)
   at ASP._Page_Views_MacroPartials_InsertUmbracoFormWithTheme_cshtml.Execute() in C:\Websites\Live\Spalder.WebsitePlatform\LatestLive\Views\MacroPartials\InsertUmbracoFormWithTheme.cshtml:line 52
   at System.Web.WebPages.WebPageBase.ExecutePageHierarchy()
   at System.Web.Mvc.WebViewPage.ExecutePageHierarchy()
   at System.Web.WebPages.WebPageBase.ExecutePageHierarchy(WebPageContext pageContext, TextWriter writer, WebPageRenderingBase startPage)
   at Umbraco.Web.Mvc.ProfilingView.Render(ViewContext viewContext, TextWriter writer) in D:\a\1\s\src\Umbraco.Web\Mvc\ProfilingView.cs:line 25
   at Umbraco.Web.Mvc.ControllerExtensions.RenderViewResultAsString(ControllerBase controller, ViewResultBase viewResult) in D:\a\1\s\src\Umbraco.Web\Mvc\ControllerExtensions.cs:line 80
   at Umbraco.Web.Macros.PartialViewMacroEngine.Execute(MacroModel macro, IPublishedContent content) in D:\a\1\s\src\Umbraco.Web\Macros\PartialViewMacroEngine.cs:line 98
   at Umbraco.Web.Macros.MacroRenderer.<>c__DisplayClass17_0.b__0() in D:\a\1\s\src\Umbraco.Web\Macros\MacroRenderer.cs:line 342
   at Umbraco.Web.Macros.MacroRenderer.ExecuteProfileMacroWithErrorWrapper(MacroModel macro, String msgIn, Func`1 getMacroContent, Func`1 msgErr) in D:\a\1\s\src\Umbraco.Web\Macros\MacroRenderer.cs:line 313
   at Umbraco.Web.Macros.MacroRenderer.ExecuteMacroWithErrorWrapper(MacroModel macro, String msgIn, String msgOut, Func`1 getMacroContent, Func`1 msgErr) in D:\a\1\s\src\Umbraco.Web\Macros\MacroRenderer.cs:line 272
   at Umbraco.Web.Macros.MacroRenderer.ExecuteMacroOfType(MacroModel model, IPublishedContent content) in D:\a\1\s\src\Umbraco.Web\Macros\MacroRenderer.cs:line 339
   at Umbraco.Web.Macros.MacroRenderer.Render(MacroModel macro, IPublishedContent content, IDictionary pageElements) in D:\a\1\s\src\Umbraco.Web\Macros\MacroRenderer.cs:line 245
   at Umbraco.Web.UmbracoComponentRenderer.RenderMacro(IPublishedContent content, String alias, IDictionary`2 parameters) in D:\a\1\s\src\Umbraco.Web\UmbracoComponentRenderer.cs:line 131
   at Umbraco.Web.UmbracoComponentRenderer.RenderMacro(Int32 contentId, String alias, IDictionary`2 parameters) in D:\a\1\s\src\Umbraco.Web\UmbracoComponentRenderer.cs:line 102
   at ASP._Page_Views_Partials_CustomGrid_Editors_Macro_cshtml.Execute() in C:\Websites\Live\Spalder.WebsitePlatform\LatestLive\Views\Partials\CustomGrid\Editors\Macro.cshtml:line 19
   at System.Web.WebPages.WebPageBase.ExecutePageHierarchy()
   at System.Web.Mvc.WebViewPage.ExecutePageHierarchy()
   at System.Web.WebPages.WebPageBase.ExecutePageHierarchy(WebPageContext pageContext, TextWriter writer, WebPageRenderingBase startPage)
   at Umbraco.Web.Mvc.ProfilingView.Render(ViewContext viewContext, TextWriter writer) in D:\a\1\s\src\Umbraco.Web\Mvc\ProfilingView.cs:line 25
   at System.Web.Mvc.Html.PartialExtensions.Partial(HtmlHelper htmlHelper, String partialViewName, Object model, ViewDataDictionary viewData)
   at Arlanet.Umbraco.Grid.Extensions.HtmlHelperExtensions.RenderGridControl(HtmlHelper htmlHelper, Control control, Boolean preview) in D:\a\1\s\Lib\Arlanet.Umbraco.Grid\Extensions\HtmlHelperExtensions.cs:line 17